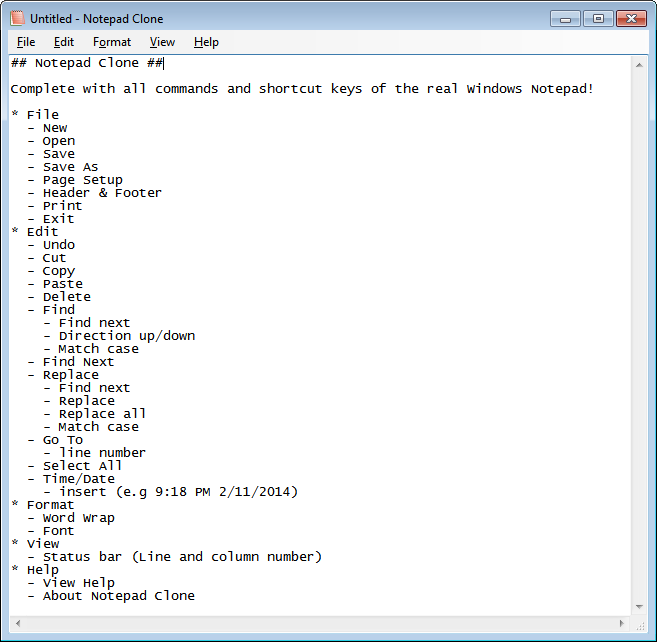 I use notepad all the time, sometimes I just wanted to add one little feature, but it's not extendable so I can't. If I could just get my hands on the source code and if that source code was in C# I'd be set. So I decided to write a clone so I can do just that, and share it so that others could as well.
I attempted to make an exact clone and I think I did pretty good with three exceptions. One I decided I wanted a different icon so I can tell it apart from the actual notepad. Two, the real notepad has header and footer information as part of the page setup. I didn't know how to do that since the page setup dialog is a system dialog. And three I didn't try to duplicate the windows notepad help file.
As you can see from the screenshot it includes the following features:
File

New
Open
Save
Save As
Page Setup
Header & Footer (you can use variables to include filename, date, and other information)
Print
Exit

Edit

– Undo
– Cut
– Copy
– Paste
– Delete
– Find

Find next
Direction up/down
Match case

– Find Next
– Replace

Find next
Replace
Replace all
Match case

 Go To (a specific line number)
 Select All
 Time/Date (inserts the date and time e.g 9:18 PM 2/11/2014)
insert (e.g 9:18 PM 2/11/2014)

Format
View

Status bar (displays the line number and column number)

Help

View Help (you will have to provide your own documentation)
About Notepad Clone
Download Notepad Clone .NET Binary (exe)
You can get the source code at GitHub:
https://github.com/luisperezphd/NotepadClone
If you would like to be notified of future posts subscribe to my mailing list using the widget on the bottom.